I've been exploring Stoneybatter recently and at the top of my list of spots to try was Cotto, located at the top of Manor Street. Having been here for pizza a few weeks previously (and impressed with it), I really wanted to try out brunch. The menu has a good variety of brunch dishes from the typical full Irish, or their version suitably called the "Oxmans "Irish, to eggs shaksouka. I ordered the wild mushrooms on brioche toast with truffle and parmesan while himself couldn't resist the sound of the sausage roll, knowing full well I would end up eating half of it. I mean, who wouldn't want a sausage roll filled with ham hock and white pudding with relish?
We placed our orders and I sipped on a "shrub" juice, which is a fermented drink with vinegar and soda. A tad on the vinegar-y side for me but I drank it anyway because I've clearly hopped on the bandwagon of fermented everything at the moment! While enjoying my drinking vinegar, we were informed that the sausage roll would be 20 minutes and while I was happy to know they were cooked fresh, we were too hungry to wait so himself chose the Oxman breakfast instead. It ended up being a wise decision because we both decided that it was one of the best full Irish breakfasts we've ever had. In terms of evaluating a full Irish, there's a few things I think are crucial. High quality sausages and pudding? check. Crispy bacon? check. Perfectly cooked oozing eggs? check. Baked beans that are made from scratch? check. Proper butter? check. All in all this was a really delicious and huge breakfast.
My wild mushrooms on toast was as it sounds- a good selection of mushrooms on brioche toast with grated parmesan. My only slight quabble would be that the toast wasn't toasted enough, if I'm being very nit-picky!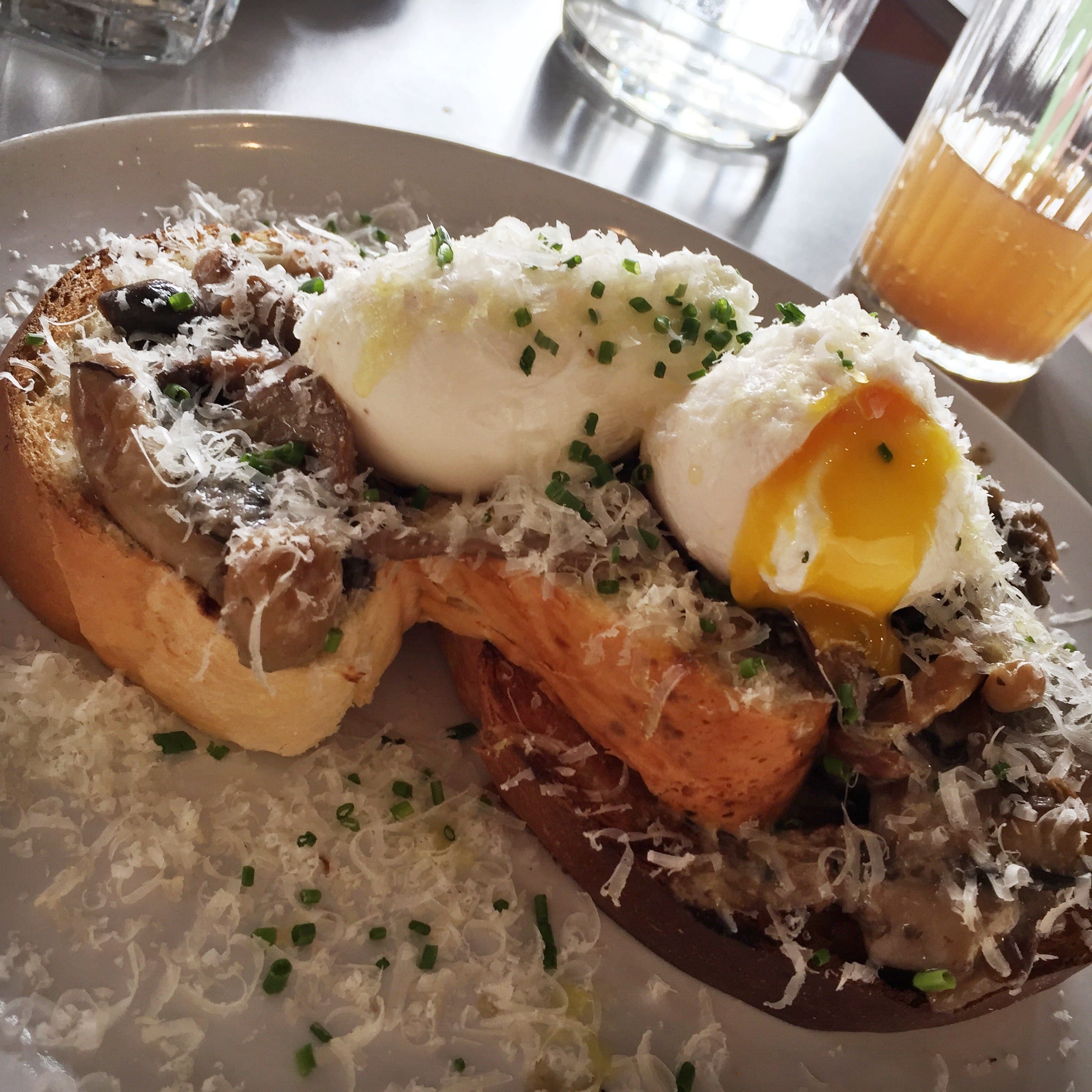 Delicious brunch and all of the fermented drinking vinegar you could want. I'll be back!