This is a really tasty recipe that satisfies those Chinese take away cravings! The key here is in the chicken, make sure not to overcrowd the wok when browning it or it won't be crisp- it takes a little extra time, but the end result will be worth it. This recipe serves 2, but you could easily double the quantities if you're serving more than that.
Ingredients (serves 2)
6 chicken thighs, skinless and boneless
2 tbsp cornflour
1 tsp salt
1 tsp fivespice powder or spice bag seasoning (if you don't have this just leave it out)
2 handfuls of chopped veg (I used broccoli, peppers and courgette)
For the sauce:
4 tbsp soy sauce
3 tbsp honey
3 tbsp sherry or rice wine
1 tsp cornflour mixed with 4 tbsp water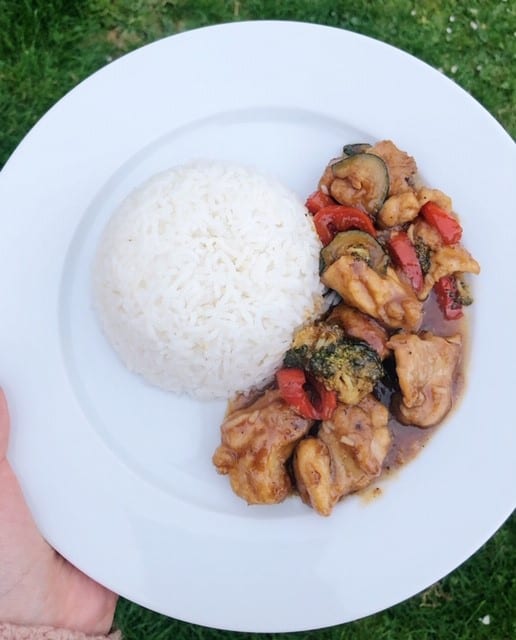 Method
Chop the chicken thighs into smaller pieces, then toss in a mixture of the cornflour, salt and fivespice/spicebag seasoning.
Once the pieces are coated, heat some oil in a wok and fry the pieces in batches, removing them and placing on kitchen paper once they're crisp.
Meanwhile, you can make the sauce by adding all ingredients to a small saucepan, bringing to the boil, then turn off the heat and set aside. The sauce should have a thick(ish) consistency from the cornflour and look glossy.
After the chicken has all been browned- remove the excess oil from the wok and fry your vegetables. Toss in a little soy sauce for about 2 mins, then add the chicken pieces back to the wok.
Add the sauce to the wok, stir gently to coat everything in sauce, then put a lid on and simmer gently for about 15-20 minutes, until the chicken is thoroughly cooked.
Serve straight away with noodles or rice.