I've been trying to be more prepared with lunches lately, and find preparing a batch of soup at the start of the week sets me up really well. This lentil, chickpea and spinach soup recipe is full of flavour, tastes even better reheated and is packed with nutrients also. I find it very satisfying and filling on it's own, but it can easily make a more hearty meal if served with a fresh crusty roll and a dollop of greek yogurt and herbs.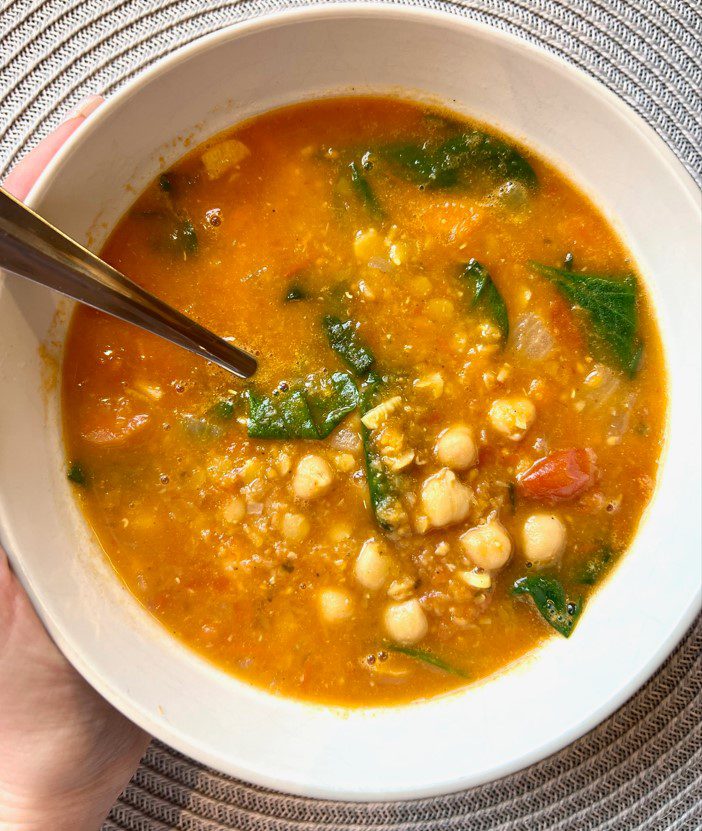 Ingredients (makes approx 6 portions)
1 cup dry red lentils (about 150g)
1 tin chickpeas
½ bag baby spinach leaves
500ml vegetable stock
1 tin tomatoes
1 tin coconut milk
1 onion, finely chopped
1 clove garlic, crushed
1 inch ginger, finely sliced
1 tbsp curry powder
Olive oil
Method
Heat olive oil in a large saucepan/pot and gently fry the onion, garlic and ginger for 10 mins, until soft and opaque but take care that it doesn't brown
Stir in the curry powder
Add in the lentils (rinse in cold water first), along with the stock, tinned tomatoes and coconut milk
Bring to a boil, then reduce heat and simmer gently for 20 mins
Once lentils are soft, I like to lightly blitz the soup with a hand blender before the next step- this is optional and if you prefer a more brothy soup, you can skip this step
Finally, add the (drained and rinsed) chickpeas and spinach, test for seasoning, and simmer for a further 2 minutes, then serve.