Its a thirsty one this week!
Dublin Cocktail Festival
From 13-18 October, Dublin's best cocktail bars will be participating in Dublin's first Cocktail Festival. Get yourself a wristband for a fiver and try some of Dublin's finest cocktails with a 30% reduction. Participating venues include San Lorenzos, 777, House, The Liquor Rooms and Yamamori Izakaya. If ever there was an excuse for a sneaky after work cocktail this is the perfect excuse! Keep up to date with all the latest cocktail creations on Twitter #DublinCocktailFestival
The Supper Club at Odeon
The Bourbon Bar launches The Supper Club this Thursday October 16th. Located upstairs at the Odeon, this new monthly supper club takes you back to the 1920's in a fabulous speakeasy style setting. Don you best attire and enjoy live music, cocktails and a 2 course dinner! Tickets and more info available here.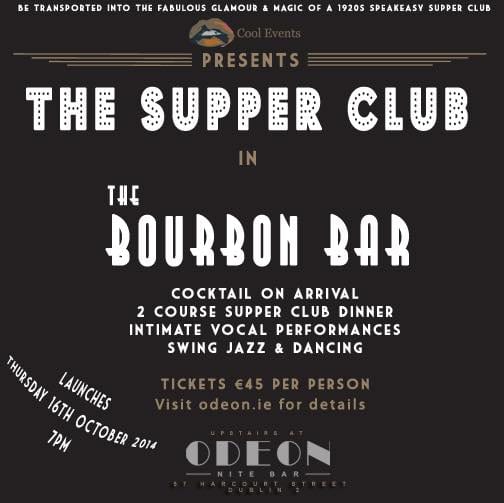 Brews We Plate Pop Up
Brews we plate will team up with Rascals Brewing Co this October 18th for an evening of great beer and food. The owners of the award winning brewery will talk you through the various beers accompanied by five courses that have been designed to suit each one. The event kicks off at 7pm in the newly opened Sister Sadie on Harrington Street in Dublin 8.