This is my go-to cake recipe if I want to impress someone. It's super easy to make, requires little washing up so the kitchen isn't in an absolute state after making it (as it usually is whenever I bake!), and tastes delicious! I've based it on a chocolate tray bake recipe from a past Great British Bake Off contestant, (check out her brilliant baking blog here http://www.thepinkwhisk.co.uk) but added in the Daim and made it into a cake rather than brownie style because it looks a bit more fancy that way!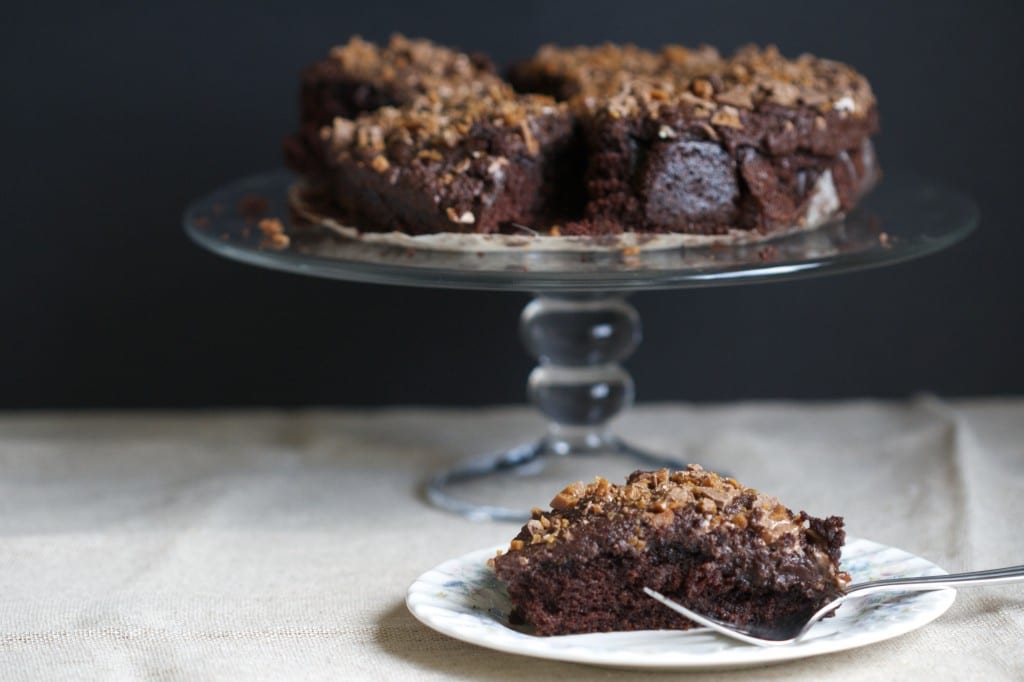 Ingredients
Cake
110g butter
120ml boiling water
2 heaped tablespoons of cocoa powder
190g caster sugar
130g plain flour
1/2 tsp bicarbonate of soda
60ml milk
1 egg, medium
1 Daim bar, smashed into little pieces
Frosting
100g butter
2 heaped tablespoons cocoa powder
2 tbsps milk
200g icing sugar, sifted
2 Daim bars, smashed
Method
1. Line a 22cm cake tin with greaseproof paper and preheat oven to 170 degrees C.
2. In a pan melt the butter, boiling water and cocoa powder.  Heat it over a medium heat until the butter begins to bubble.  Bubble the mixture for 30 seconds and remove from the heat.
3. Mix together the flour, caster sugar and bicarbonate of soda, mixing them now should stop you getting any lumps of flour.  Add this dry mixture to the pan and stir until combined.
4. Add the milk and egg and mix well until everything is incorporated and the consistency is smooth. Now add in the Daim pieces.
5. Pour into the lined tin and bake for 35 minutes. Remove from the oven and allow to cool in the tin.
6. Now get started on the icing: Melt the butter and cocoa powder in a pan. Remove from the heat.
7. Add in the sifted icing sugar and milk and mix until smooth.
8. Pour this over the cake while still in the tin, scatter over the Daim pieces and allow to cool. I find this cake is actually better a day after baking so you can easily make it a day ahead!