With a healthy food menu packed full of goodness as are their juices, Sprout & Co. Kitchen continues their focus on the sunny side of life with perky breakfasts, quirky salads, soups, cold pressed juices, superfood smoothies, 3FE coffee and plenty more in their new eatery on Dawson Street.
Sprout & Co. Kitchen differs from many other food businesses, in that absolutely everything is made in-house on site in their newly built kitchen, and most dishes and salads are made entirely to order. Jack and Theo Kirwan's Kitchen is all about fresh, living growth, and the café itself reflects the importance of this freshness with aromatically scented, vibrant green herb walls, and growing herbs and potted plants on every table. Along with the zingy flavours of the healthy food at Sprout & Co. Kitchen, this makes the café a feast for all the senses!
The new addition to Dublin's Dawson Street kicks off the day at 8am with a selection of porridge, granola, avocado toast, smoothie bowls using seasonal fruit, and poached egg pots with optional extras like Gubbeen chorizo or bacon, smoked salmon, spinach or avocado.lunch will feature grain bowls served with a selection of toppings, along with a wide choice of healthy and flavour-rich salads, like a kale Caesar with shredded kale and cos lettuce, free-range Irish chicken, confit tomatoes and a yoghurt Caesar dressing or a buckwheat beet salad with roasted Irish beets, Fivemiletown goat's cheese, toasted hazelnuts and orange vinaigrette.
Wraps are also available as a lunch option along with Sprout & Co.'s own renowned range of nutritionally dense cold pressed juices, 3FE coffee, Clement & Pekoe tea and wheatgrass shots.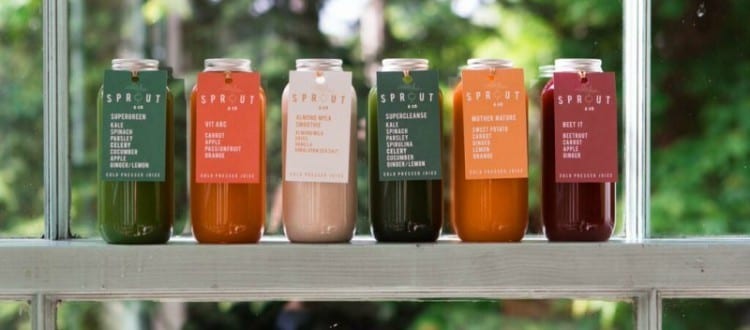 Visit them at 63 Dawson Street, Dublin 2.