The three day event, featuring more than 50 craft breweries and distilleries, opened at Dublin's Convention Centre on Friday February 5th. 
Craft beer, spirit and cider fans welcomed the return of the ever popular Alltech Craft Brews and Food Fair, which takes place in the Convention Centre Dublin from Friday 5th- Sunday 7th February. The three day event, which is now in its 4th year, will host the best of Irish and International craft breweries.
Speaking at the opening, Dr. Pearse Lyons, founder and president of Alltech, remarked "when we started this festival back in 2013, it was with just a handful of exhibitors. Ireland now has more than 100 craft breweries, and we are welcoming more than half of them to the Alltech Craft Brews and Food Fair this weekend… As an Irish brewer, I could not be more delighted personally to see the growth, the excitement and the innovation within our craft."
More than 60 exhibitors from 20 counties across Ireland, alongside six international breweries and distilleries, will showcase their finest brews and delicacies to an expected crowd of more than 10,000 craft beverage loving fans over the weekend.  A selection of Irish foodie treats including Sheridans cheese, Donal Skehan's infamous Skoff pies, snacks and baked goods will be available.  Attendees will also enjoy live music, Six Nations Rugby on three giant screens, cocktails and spirits, and a Craft Beer Grand Slam hosted by self confessed craft beer lover Rick O'Shea.
Pictured below is Gearoid Cahill, European director of brewing science at Alltech with Sarah McNally of Mac Ivors Cider preparing for the opening of the three day Alltech Craft Brews and Food Fair at the Convention Centre Dublin. Mac Ivors will offer visitors to the event a limited edition "Mac Ivors Cider with plum and ginger" which was created especially for the event.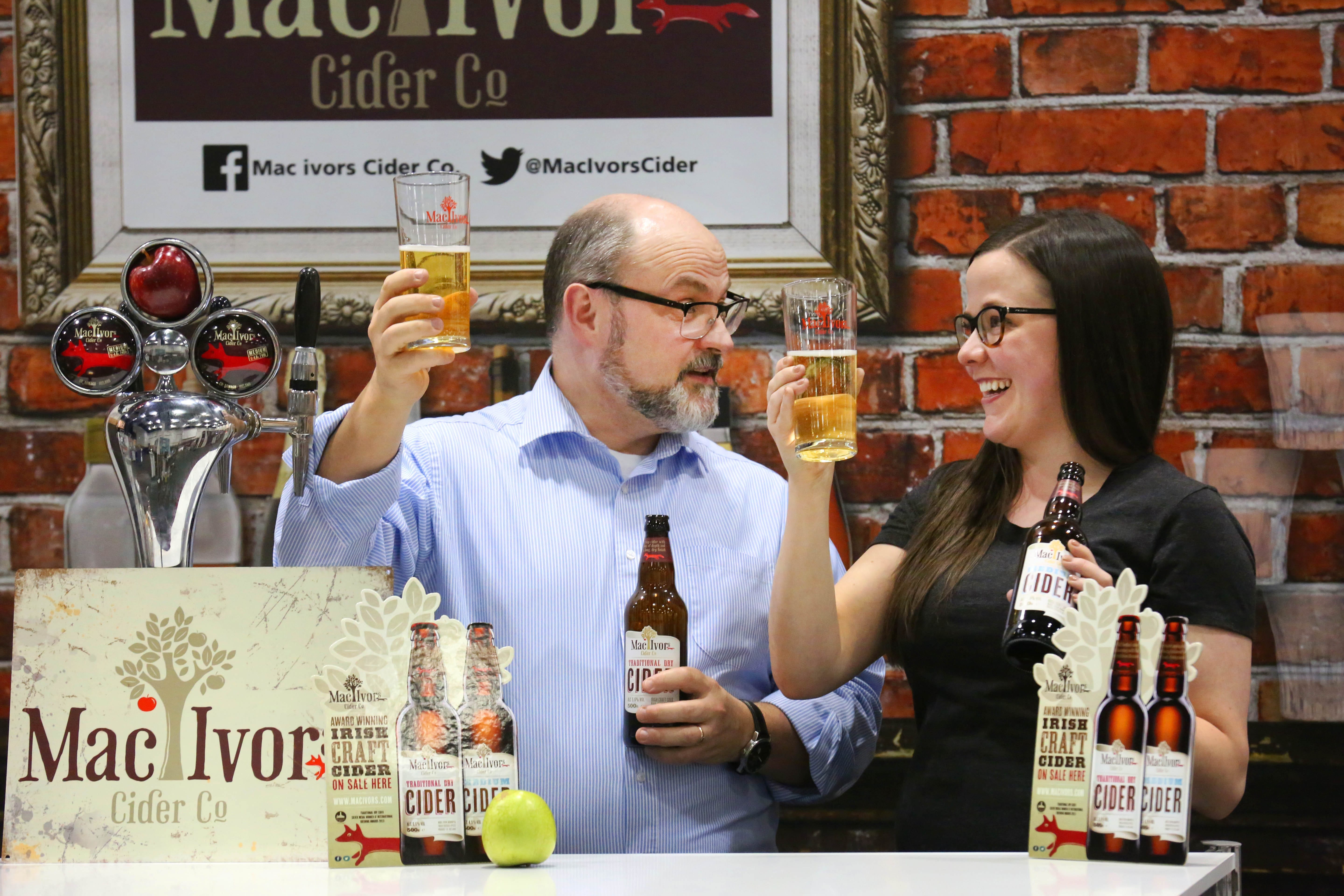 Tickets are available online from €15 (plus booking fee) and can also be purchased at the door (€20). Doors open at 5pm on Friday evening and at 12.30 p.m. on Saturday and Sunday.