In case it's not obvious from the name, the Garden House Cafe  in Malahide is indeed set in a garden centre. Not just any garden centre though, the Garden House sells all sorts of beautiful home decorations, artisan food and eggs laid by their very own hens!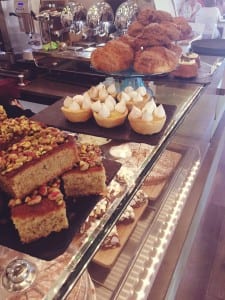 With the beautiful weather we are having I thought it was fitting to get some new plants for the garden (for someone else to plant of course!). Although my main reason for visiting this particular garden centre is more for the food (my motive for visiting most places in life)! The cafe is set in the old original garden centre, a beautiful building with a thatched roof. Breakfast, as it may be obvious from reading this website, is my favourite meal of the day, so I do have quite high standards which the Garden House meets time and time again. Having tried both the french toast and wild mushroom w/ poached eggs in the past, I opted to the eggs benedict this time. An elderflower lemonade was the perfect thirst quencher for the morning that was in it, and quite good value too at €3.50 for a carafe. I usually find elderflower a tad overpowering but this was just right.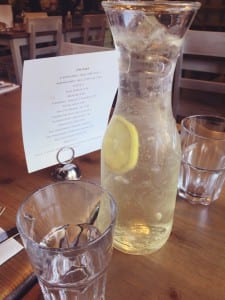 Eggs benedict were brought to me at a questionably short wait but they were delicious. Perfectly poached eggs, with proper honey baked ham. I would have preferred if the muffins had been lightly buttered rather than served dry however. The cakes were all tempting, but I finished with a lemon merengue tart which had an ideal amount of curd and a crisp pastry- no soggy bottoms as Mary Berry would say.