It's always good to have something in the fridge to munch on over the weekend. Usually it might be some cheese or olives but I decided to go the healthy route today with sweet potato hummus. This recipe is so easy and it makes 2 big bowls. Much quicker and cheaper than buying it in the shop! As much as I would love to eat it all by the spoonful, I'm going to keep some to use in a lunchbox salad or wrap during the week. The smokey chipotle flavour with sweet potato which adds a lovely creaminess but this could easily be substituted with many other flavours such as pesto or coriander.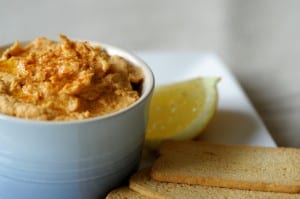 Prep Time: 5 mins                      Cooking Time: 20 mins
Ingredients
1 small sweet potato, peeled and chopped
1 tsp ground chipotle chilli
3 cloves of garlic
1 can chickpeas
juice of 1 lemon
4 tbsp tahini
3 tbsp olive oil
1/2 cup water
1/2 tsp cumin
1/2 tsp paprika
salt
Method
Put the chopped sweet potato and whole garlic cloves in a roasting tin and add a dash of olive oil and the ground chipotle chilli. Stir to coat the potato and bake for 20 minutes.

Once this is cooked and somewhat cooled add it to a food processor along with the rest of the ingredients. Add salt to taste.

Enjoy!