German fried potatoes recipe
Potatoes are almost as big of a deal in Germany as they are here in Ireland, and when they taste this good then rightly so! Bratkartoffeln, or fried potatoes, are on almost every menu in Germany, and can be found served with anything from breakast to dinner. This is one hell of a tasty brunch that is sure to set you up for the day that's in it tomorrow! Not something I would cook every day of the week (my heart would not thank me for that), this is a bit of splurge. Sure why not enjoy it with a cold german beer and get in the mood for the big game!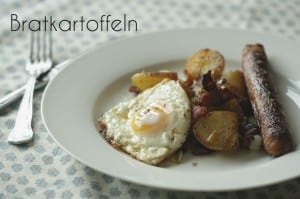 Ingredients (Serves 2)
Small bag of baby potatoes, cooked and chopped
3 slices of bacon, chopped
1 onion, chopped
3 tbsp red wine vinegar
A pinch of Sweet Paprika (optional)
Salt and Pepper
Butter and oil for frying
Bratwurst/Sausages
Eggs
Method
Fry the onions over a low heat for about 7-10 minutes, the longer the better. You want them to be really soft and sweet rather than fried. Remove from the pan and set aside.
Melt some butter and oil in the pan and when its almost smoking hot add in the bacon and fry for a minute or so, then add the potatoes.
Add in the paprika and season. Keep frying until everything is really golden and delicious looking.
Add in the onions and heat through.
Serve with Bratwurst and some runny fried eggs. Delicious German Fried Potatoes!