Taste of Dublin 2014
Yesterday I attended the annual Taste of Dublin event in the Iveagh Gardens. This was my first time at the event, which I am ashamed to say, and it really surpassed my expectations. Until Sunday, the gardens are filled with the best food and drink in Dublin, where you can buy taster plates from different restaurants (ranging from 6-7 Florins, the currency of the event which can be purchased easily inside), attend masterclasses, and just have a really great time! My main problem is that even having arrived hungry, I still couldn't fit in all of the dishes I'd like to have tried. Maybe next year I will learn to pace myself a bit better! Among the restaurants there are Rock Lobster (this was a popular one judging by the queue), Brioche, the Chophouse, Il Primo, Jaipur, China Sichuan, Clodagh's Kitchen, the Green Hen, Saba, the Hot Stove, and there were lovely cocktails and Hendricks gin tea from The Exchequer. Unfortunately I wasn't there for a demonstration by one of my food heroes, Raymond Blanc, but I did manage to fit in a demo from the wonderful Rachel Allen.
Having been a bit skeptical about the price, I definitely think it is worth every penny. You will expect to spend about 30 Florins/Euro per person in there but this is well worth it for the variety and quality of the food. There was also plenty of seating outside and room for lounging with a drink for some people watching!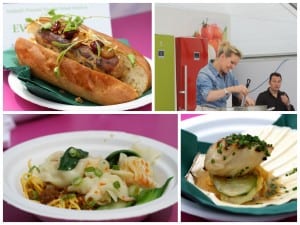 A big fan of Brioche, that's where I headed first where we sampled a duck dog and scallop in champagne sauce. The scallop was amazing and I'm already looking forward to their seafood evening in July! Chicken Wantan with noodles from China Sichuan also impressed. This is somewhere that has been on my "list" for a long time so I'm glad I know what all the hype is about now!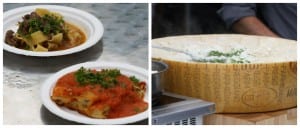 We also tried the slow cooked oxtail pappardelle from Il Primo, and their crab and leek lasagne, which was the highlight of the day for me! You can see their risotto above which looks amazing, and i was devastated that by this stage I physically could not eat any more!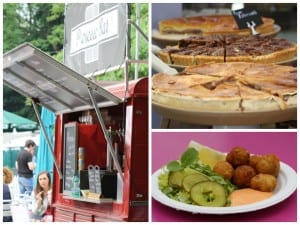 Smoked haddock beignet from Matt the Thresher was seriously tasty, and I am dying to try recreate the harissa and lime mayo it was served with. There wasn't a huge amount of desserts on offer, which suited me just fine! The Kilkenny stand (above) was a lovely place to sit and have a coffee and cake to finish off the day.
Gourmet Grazing are already looking forward to next year!
http://www.tasteofdublin.ie